Happy New Year to all. I can't believe how quickly the winter is going and despite my new dressage career….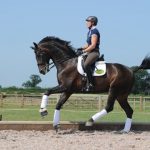 OWNER: Alida Davis – sold to the USA
BREEDING: Sandro Hit x out of Rubinstein mare
FOALED: 2002
HEIGHT: 17.1hh
COLOUR: Dark Bay
SEX: Gelding
Welcome to WordPress. This is your first post. Edit or delete it, then start blogging!