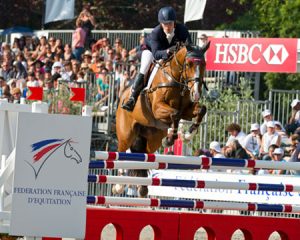 Ruth started eventing in the Pony Club, winning the Pony Club Championships in 1995 riding Ice Dancer, the same horse taking her to 5th place at her first international event, Windsor, the following year. The pair completed its first Five Star at Badminton in 1998, jumping clear across country.
Ice Dancer completed Badminton twice and Burghley once. Classic Wizard was her next five star ride, before Master Couture took over the top spot, completing both Badminton and Burghley in 2004.
Two Thyme, on whom Ruth won the five star at Luhmuhlen in 2007, made his top level debut at Badminton in 2006, finishing 11th, while Marsh Mayfly placed in the top 20 at Burghley the same year.
Ruth has multiple good results at the top level, including being crowned British Open Champion three times, riding Two Thyme on each occasion.
She remains committed to achieving top level success in the sport, and is looking for investors to help realise this goal. She has a number of packages and ideas available to interested parties.